Leadership Team:
Our leadership team recognizes the authority of God and realizes that we are servants who serve under the Chief Shepherd, Yeshua Jesus the Messiah. We desire to devote ourselves to prayer and the ministry of the Word. Our passion and goal are to equip the saints for the work of the ministry and the edifying of the body of Christ until we all attain maturity in the fullness of.
.
Dr. Robert L. Montgomery
Senior Pastor
Dr. Robert L. Montgomery is the Senior Pastor of Tabernacle Baptist Church of Lawrenceville and has been since September of 1988. When he first arrived, he found a handful faithful members busy carrying on in the name of Jesus. He and his family were immediately welcomed by the loving members and shortly began receiving added members into the Church. Under his leadership, many souls have been saved, many unchurched have united in fellowship with Tabernacle, ministers of the gospel have been called and some are pastoring, and the church facility and property has expanded and has been updated. Dr. Montgomery received his associates, bachelors, masters, and doctors' degree from Gwinnett Hall Baptist College located in Lawrenceville, Georgia. He is married for 48 years to his precious wife Emma. They have one son, Marlon, who is a minister of the gospel himself, a wonderful daughter-in-law, Kristin, and four lively grandchildren.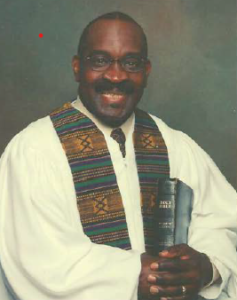 He is the son of a Baptist Preacher. Born and raised in Cincinnati, Ohio. Married to Yvonne Saturday for 54 years.He has 2 Daughters, 1 Grandson & a Granddaughter-in-love. Accepted his calling in 1990 & served as an Associate for over 10 years. In 2002 he was called to Pastor and in the fall of 2015, he obtained his Doctorial in Ministry degree in Leadership from Vision International University. The Lord called him to Pastor 3 churches, be an Associate Minister at 3 & head 1 online ministry during the pandemic. He enjoys teaching & credits his passion to the elders of the church. His favorite scripture is Proverbs 3:5-6 "Trust in the Lord with all of your heart & lean not to thy own understanding, & in all thy ways acknowledge Him, & He will direct thy path."