Leadership Team:
Our leadership team recognizes the authority of God, and realizes that we are servants who serve under the Chief Shepherd, Jesus Christ. We desire to devote ourselves to prayer and the ministry of the Word. Our passion and goal is to equip the saints for the work of the ministry and the edifying of the body of Christ until we all attain maturity in the fullness of Christ.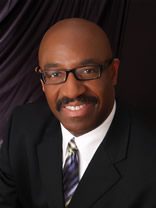 Dr. Robert L. Montgomery
Senior Pastor
Dr. Montgomery has been Senior Pastor of Tabernacle Baptist Church since September of 1988. When he first arrived, he found a few faithful members busy carrying on in the name of Jesus. He and his family were immediately welcomed by the loving members and shortly began receiving added members into the Church. Under his leadership, the church facility and property has expanded and the membership and ministries continues to grow. Dr. Montgomery received his associates, bachelors, masters and doctors degree from Gwinnett Hall Baptist College located in Lawrenceville, Georgia. He is married for 43 years to his wife Emma. They have one son, a daughter-in-law, and three grandchildren.
Other associated ministers include:

Minister Brian Ray – a former Pastor who leads our Education Department and teaches the youth Connecting with Christ classes on Sunday morning and our Wednesday at Noon Adult Bible study class.

Minister Timothy Staten –
Leads our Men's Ministry and teaches our Sunday morning Men's Connecting with Christ Classes. Timothy has been attending Tabernacle Baptist Church since September, 2011. Timothy received his Masters Of Theology from Regent University in Virginia Beach, Virginia in 2017. He is married to Shirley and they have four children and three grandchildren.
Minister Anthony Hudson – the newest member to our leadership team has been assigned the position of Outreach Coordinator and he also is co-teacher of the men's Connecting with Christ Class on Sunday morning.
Our Women's Ministry – is lead by sister Cheryl Drayton who also teaches the Sunday morning Women's Connecting with Christ Classes along with others.
We currently have 3 deacons: Deacon Ernest Brooks, Chairman, Deacon Otis Conner, and Deacon Ronald Drayton; and we have one deacon trainee currently – Brother Jay Gist.